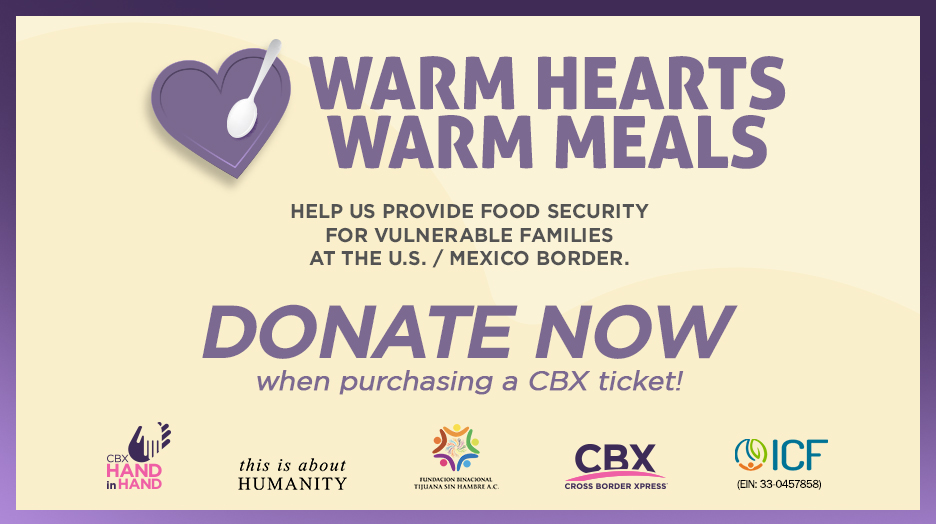 When crossing through CBX, passengers can contribute to providing food security for vulnerable families at the U.S.-Mexico Border through the Warm Hearts Warm Meals matching grant campaign.
From June 1st through August 31st, 2023, passengers can donate online when purchasing a ticket on CBX's website and app and at the CBX terminal. Donations can also be made via the international nonprofit organization International Community Foundation (ICF). Donations made through ICF are tax deductible.
Driven by our determination to impact the well-being of our community positively, CBX is working in coordination with ICF to carry out a matching funds campaign. CBX and This Is About Humanity have pledged to match every donation made during the campaign, dollar for dollar, up to $25,000 each. The donations raised will benefit Tijuana Sin Hambre, a bi-national nonprofit that provides food security for some of the most vulnerable populations in Tijuana. 
What are the donations for?
CBX is working with the International Community Foundation (ICF), an international charity organization dedicated to philanthropy, to benefit under-served communities in Baja California. Donations will benefit the nonprofit Tijuana Sin Hambre, which serves vulnerable communities by providing food to 2,500 people daily in eight migrant shelters and three underserved communities in Tijuana, Mexico, ensuring daily warm, nutritious meals and is on track to serving over 600,000 meals a year.
Is my donation tax deductible?
All donations made through the ICF link or via check directly through ICF are tax deductible. Donations made on CBX's website and app and at the CBX terminal, however, are not tax deductible. A donation receipt will be emailed/mailed directly by ICF to the donor. The International Community Foundation is a 501(C)(3) Nonprofit registered in the US under EIN: 33-0457858.